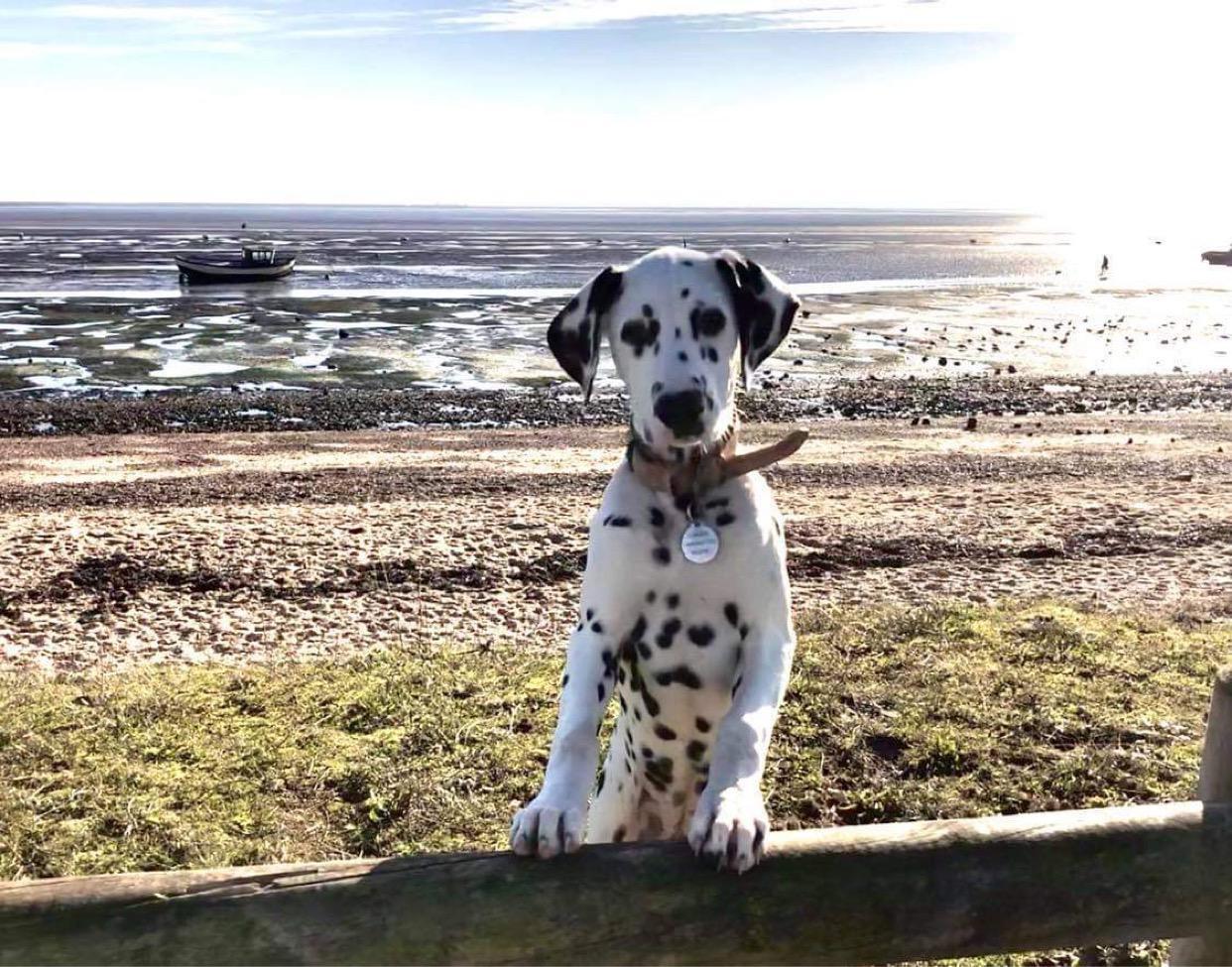 We are the luckiest owners of the first-born Dalmatian pup born to the first litter back in 2017....Oililou Emilio Pucci aka 'Chance'. Jayne's family actually named Chance 'Roly' and it was clear that every puppy had a special place in their hearts. The puppies are all raised within a family environment and exposed very naturally to the sounds, smells and activities of home life....so the puppies come to you full of good health, natural curiosity and wonderful temperaments. As for our boy Chance, he is the sweetest soul who has enriched our lives beyond measure. Dalmatians are totally loving, loyal, energetic bundles of fun who just wish to please you and be loved. We would have another in a heartbeat ❤️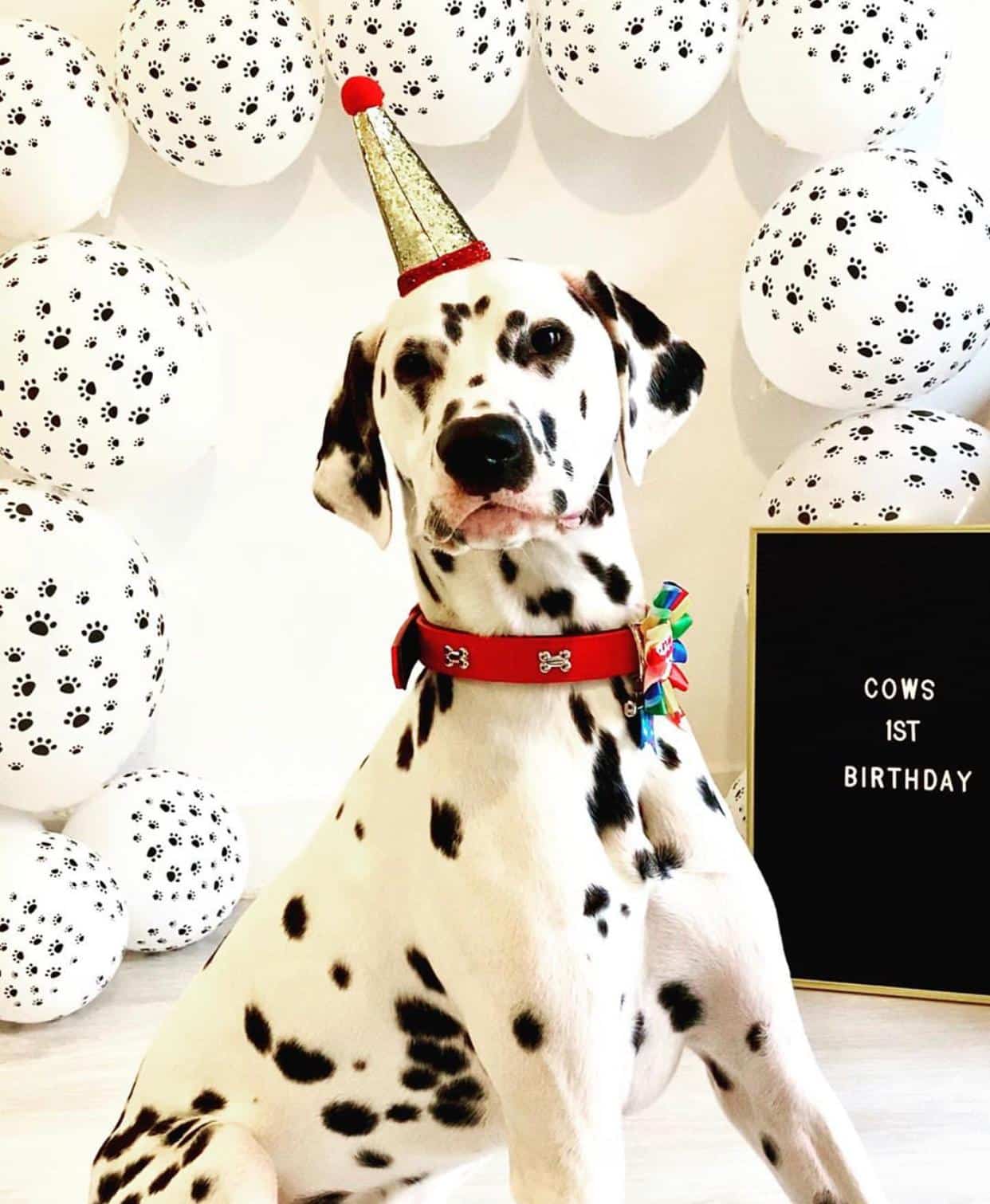 We found Olilou Dalmatians after many months of searching for KC registered Dalmatian breeders. Having never owned a Dalmatian, we were very selective with which breeder we chose. Jayne was brilliant from the get go. She was clearly very knowledgeable and was happy to answer any questions we had (trust me, we had a lot). We reserved a pup before they were born and so seeing the regular photo updates really made us feel involved with the process. Eventually, selection day came and we were able to meet the pups for the first time, honestly I have never been so excited in my entire life! It was great to meet Jayne in person and to see the loving and happy home the pups were being brought up in. Of course, we were also able to meet the mother of the pups, Dolly. Fast forwarding a year, we are now the proud owners of a beautiful, loving (albeit slightly wimpy) 1 year old Dalmatian. Jayne has stayed in contact with us and we regularly update her on how our little boy is getting on.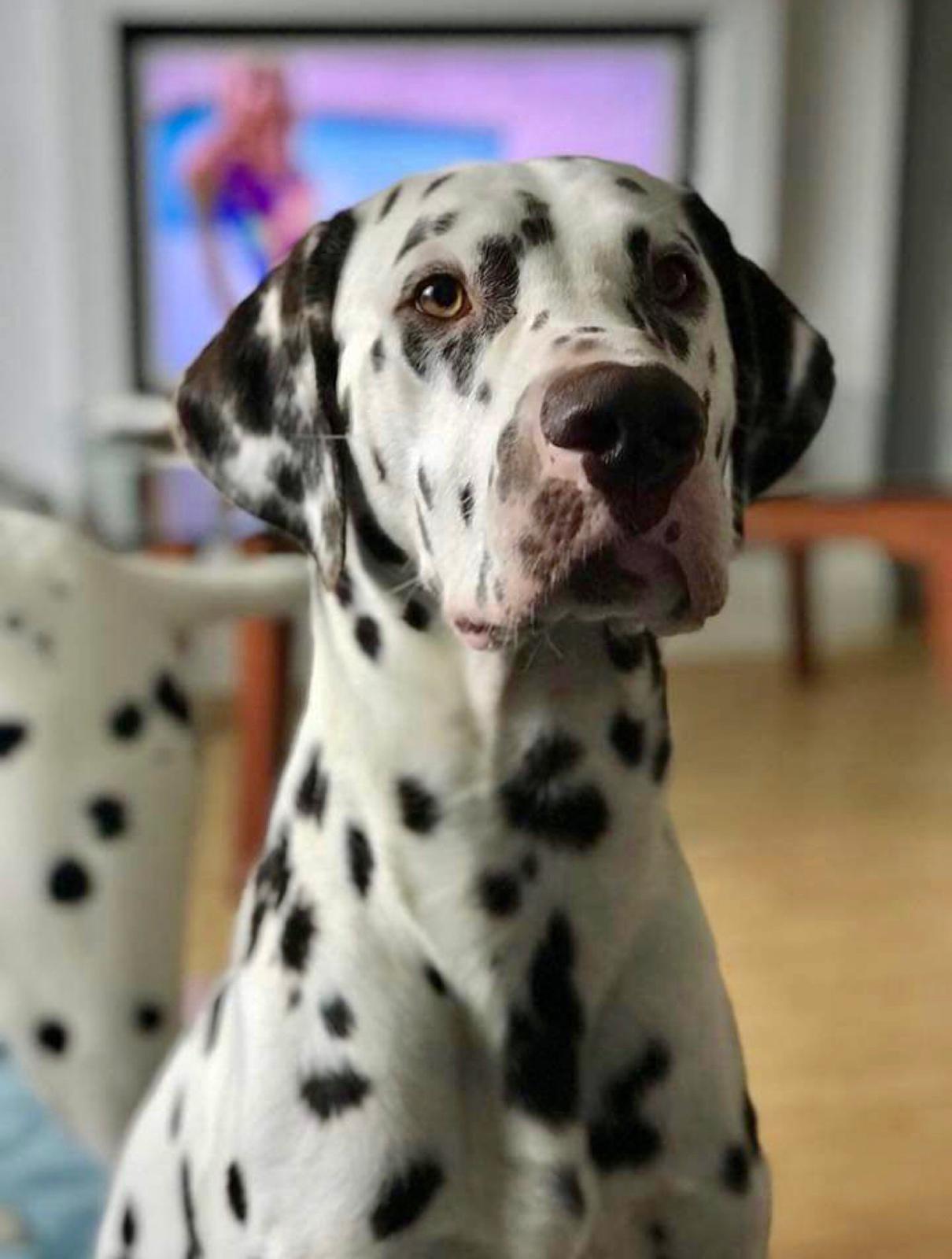 Rosie is just over a year old and needless to say we are absolutely smitten with her.   She's full of zest, loves life and has a quirky delightful personality.   She's also an incredibly elegant dog who has such natural poise and an innate regal air!  She's fitted in with her sisters beautifully and is so sociable with everyone she meets - dogs or humans. We feel very privileged to have her as part of our family. Thank you Olilou Dalmatians.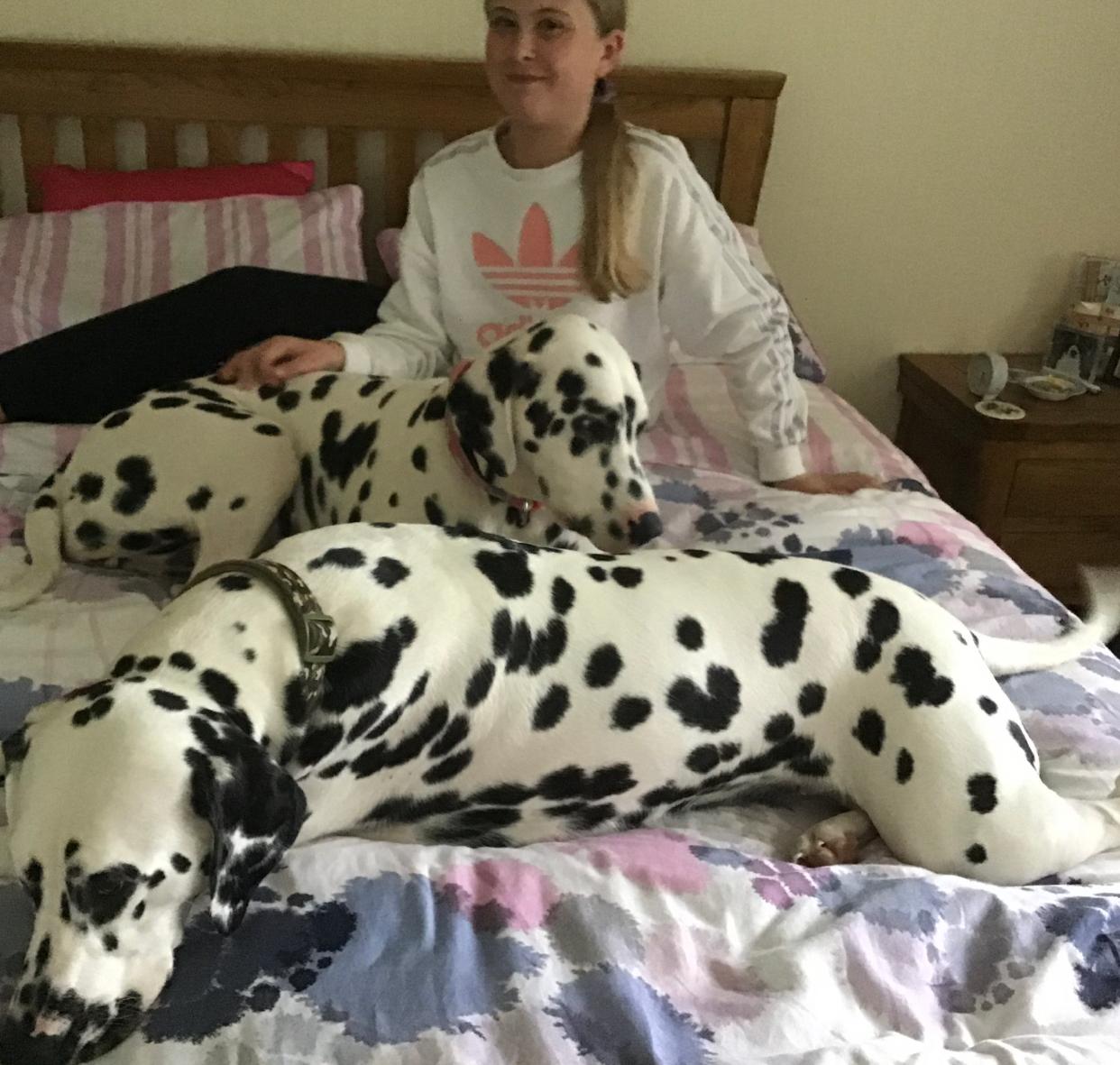 From my first telephone conversation with Jayne about the litter of Dalmatian puppies,  I could tell that she was very particular about the suitability of the puppies to their prospective new Mam, Dad and new home. This was one of the qualities I liked about Jayne - this showed that she was a very caring person. The puppies and their mother were in excellent condition. The mother had a kind nature and didn't mind us looking and handling her puppies. Jayne was very helpful and knowledgeable. Our two Dalmatian girls - Daisy and Lily are now a year old. They are absolutely beautiful, I can't praise them enough. They are very kind, loving, playful, super intelligent dogs. They are very sociable and brilliant with our grandchildren. Another good quality - they will definitely let you know of any callers to the property - very sharp - good guard dogs. They are happy, healthy dogs having a great life.
We had the pleasure of getting our Dalmatian puppy from Olilou Dalmatians last October.  The pups were clearly bought into a very loving home environment and had been introduced to all sorts of things making for a very confident little pup. Jayne has been really helpful with advice before and after we bought him home. We wouldn't hesitate to recommend Olilou to anyone looking for a new pup.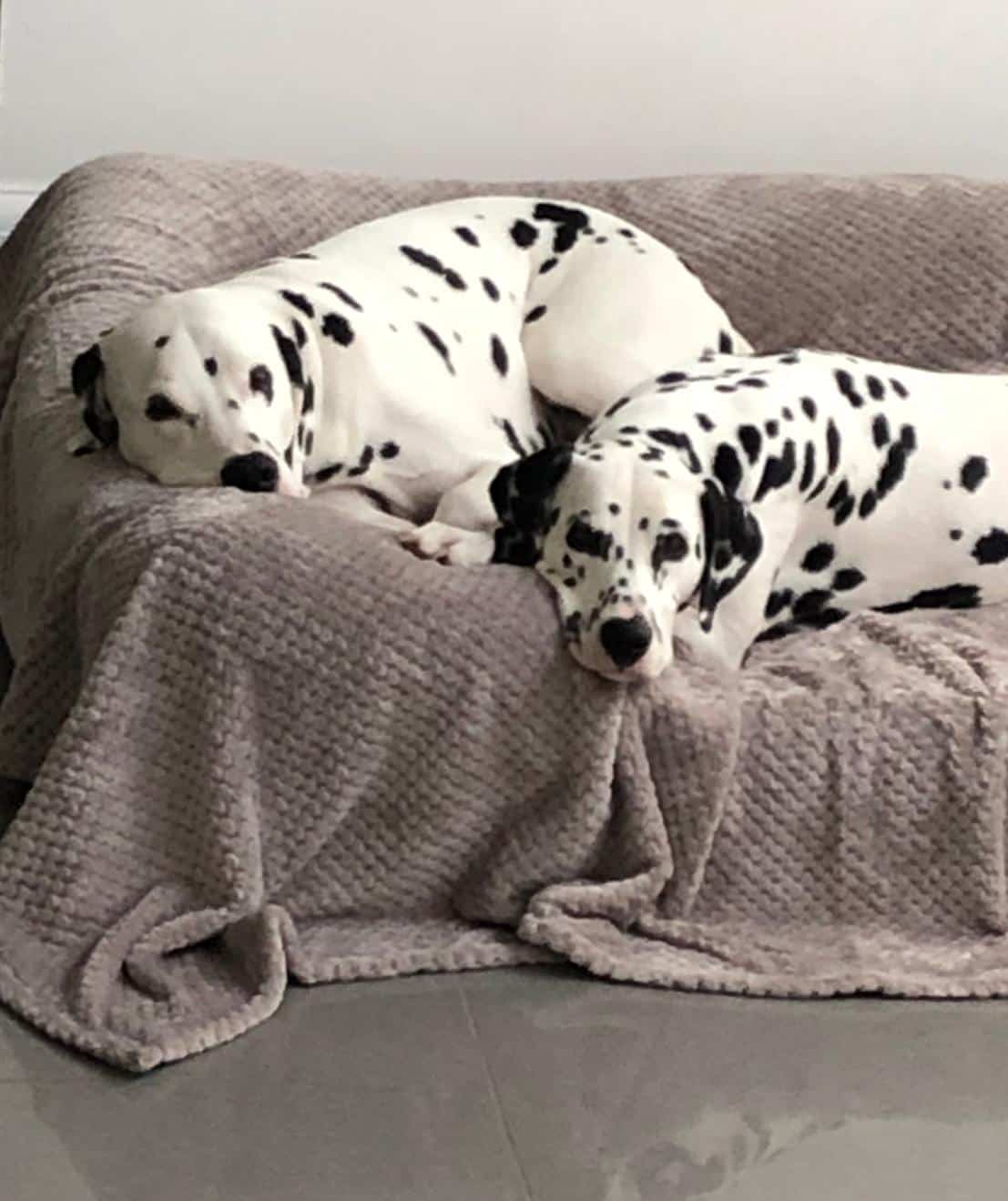 We have had two puppies from Jayne and the support from day 1 has been excellent. They have grown to be healthy well natured beautiful dogs and we couldn't be happier.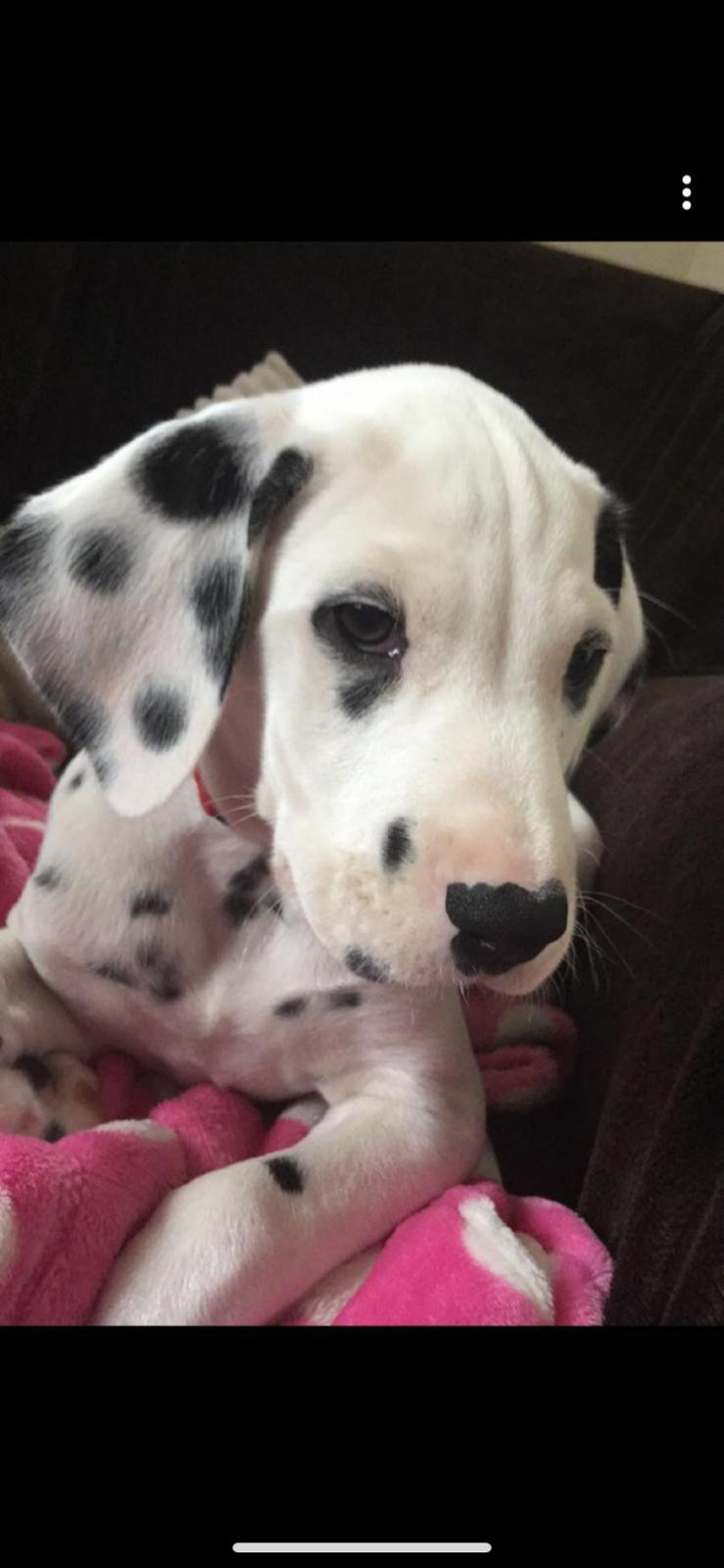 We brought Dexter in 2017 from a lovely lady in Broxbourne, from Oliloudalmatians, when he was 9 weeks old Dexter is such a loving dog & we wouldn't change him for the world. He is well mannered & the most loving dog & we couldn't have found a better place to have brought him from?We have had him for 3 nearly 4 years in February & have never had any problems with him! I would 100% recommend Olilou Dalmatians as there such well-bred dogs & The owners are lovely too!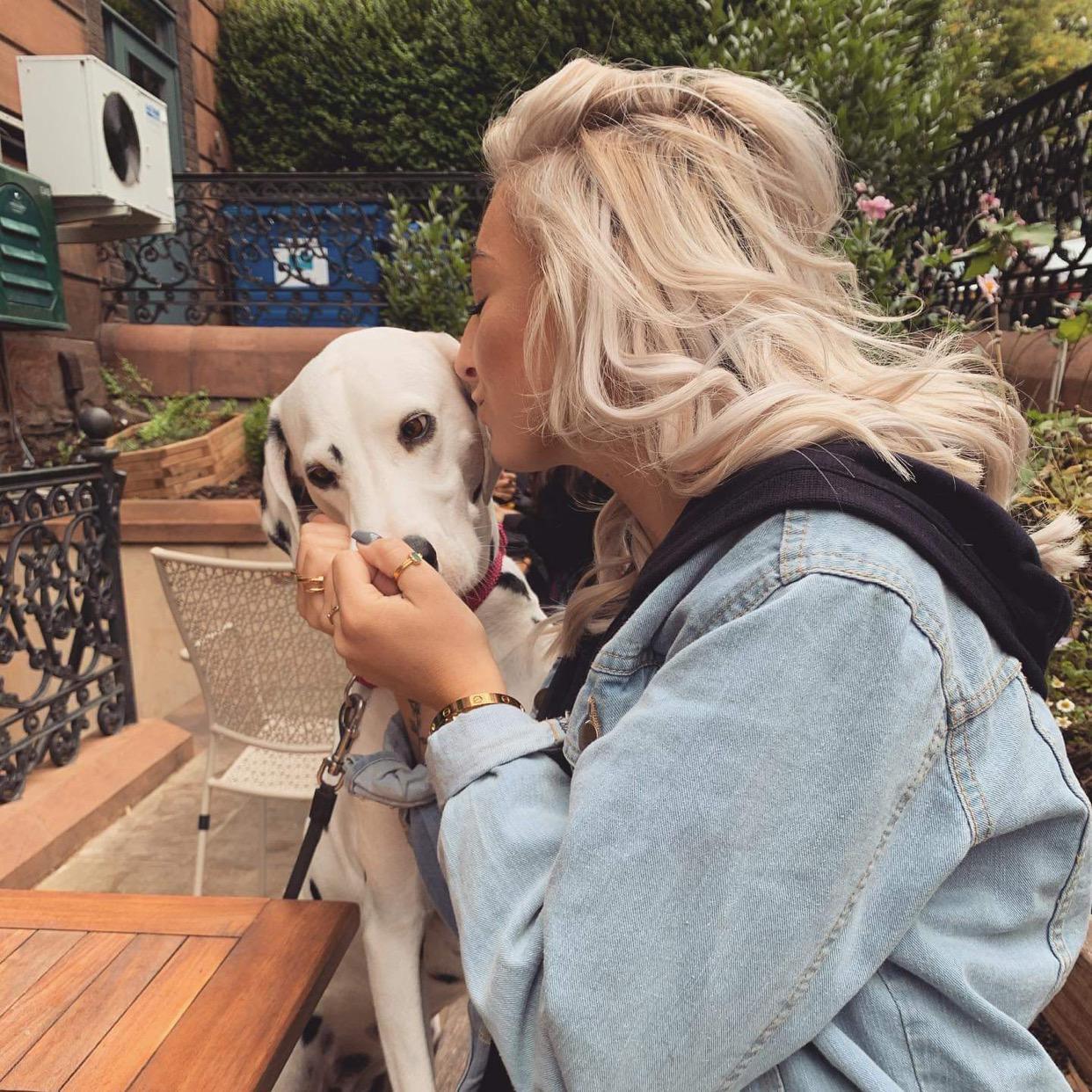 What can I say about our Olilou Dalmatian? We picked Callie up around 3 and a half years ago (April 2017), she was part of Dolly's first litter. She belongs to me but has stolen the hearts of the whole family. She was a great puppy and we had her basic training nailed by about 4/5 months old. She is the most loving, loyal and affectionate dog we could have wished for. I can't go anywhere without someone stopping to tell me how beautiful she is! She really is everything to my partner and I she is the best decision I ever made. She is the best 4-legged friend we could ask for.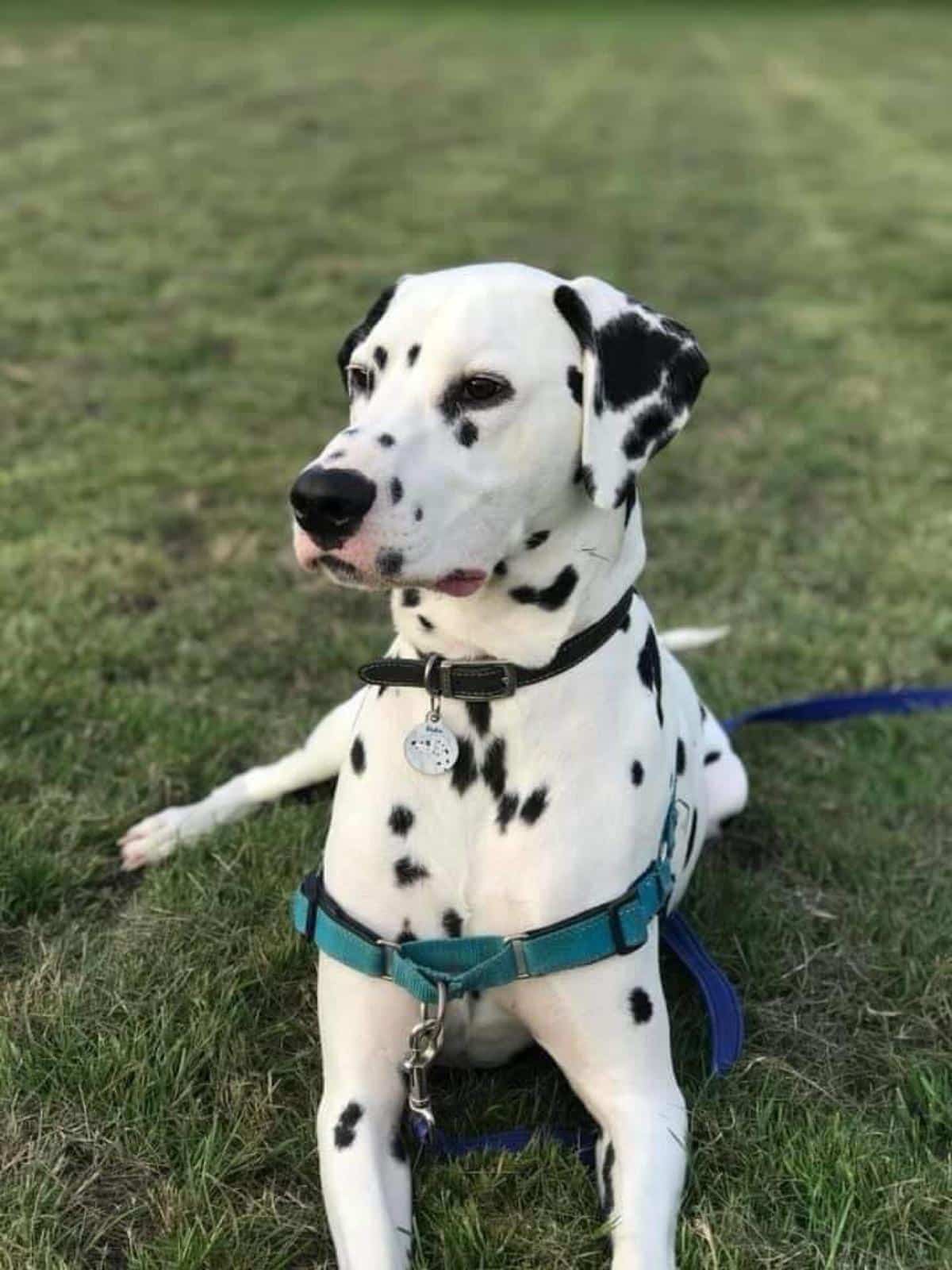 Right from the word go i was filled with confidence buying a puppy from Jayne at Olilou Dalmatians. My boy Duke is the kindest natured dog, with the sweetest softest soul! He is fit, healthy & full of beans. I have the best dog i could've ever asked for! Jayne does a fantastic job at breeding beautiful, healthy puppies, who turn into even more beautiful adult dogs. Duke is 3 now and Jayne has always been there for any help and advice i might need. Thank you! Xxx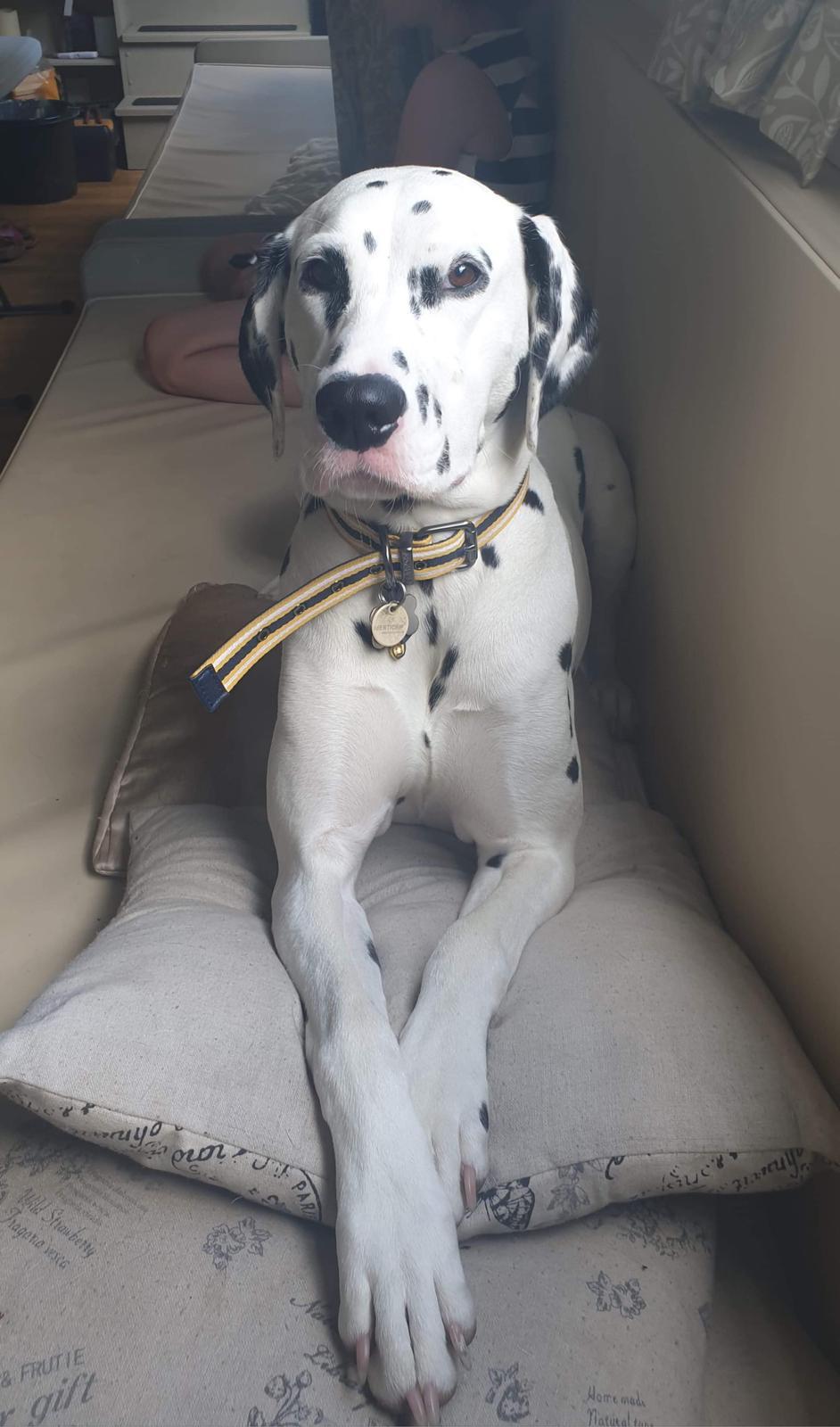 This is my very special fur daughter Marigold. She has been in my life for only a year but I cannot imagine life without her. I have never known such an affectionate dog! She is to me, perfect. The right balance of loyalty, fun, exercise and cuddles. She is incredibly patient with children and little dogs who are often quite intimidated by her size. Jayne has always been supportive and we are always in touch with photos.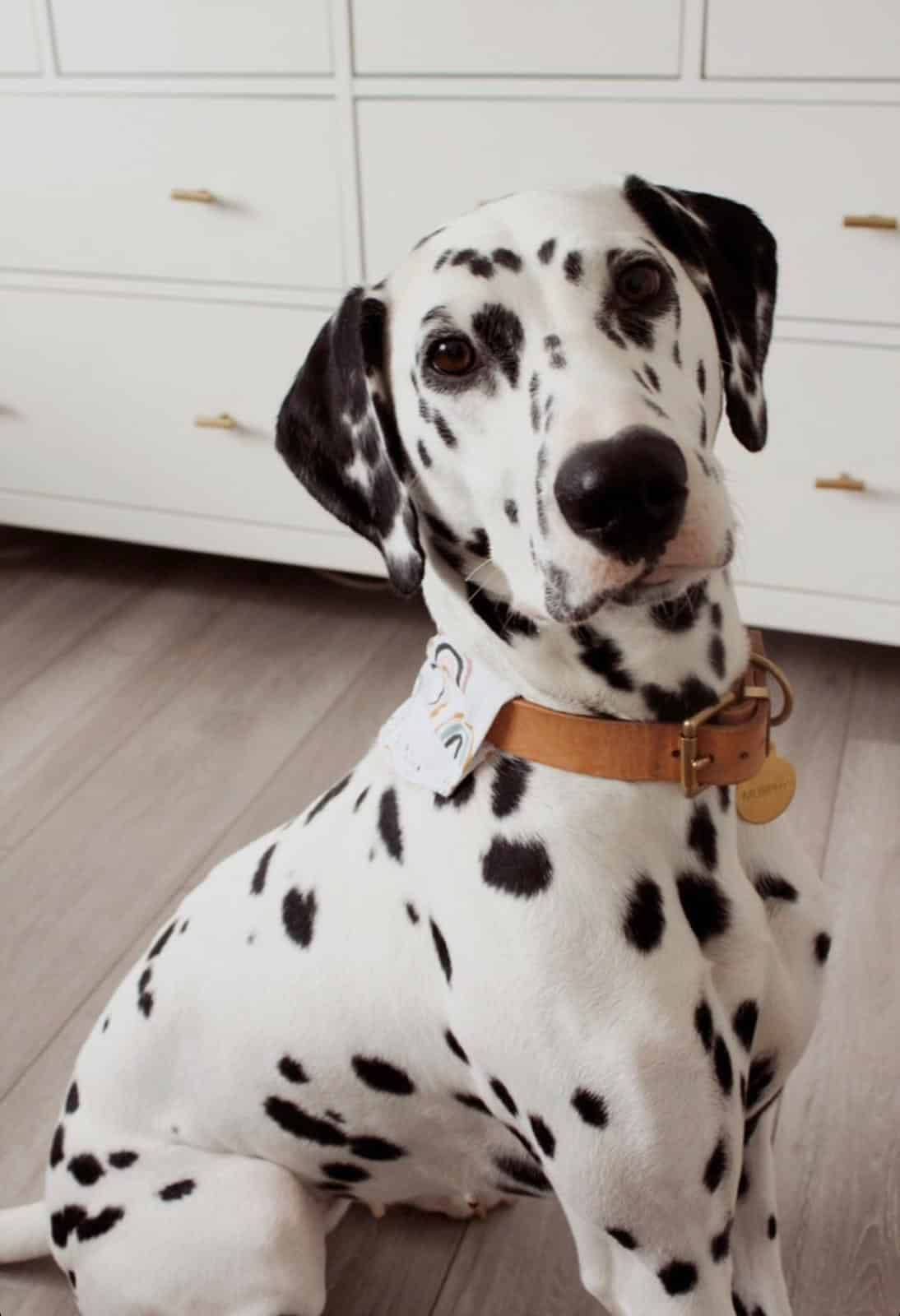 We'd had some issues in the past with a dodgy breeder, so I was very apprehensive about the process of getting another puppy, but Jayne was just wonderful. She sent regular email updates in the weeks leading up to the puppies' birth, then photo updates on the puppies' growth once they were born, making sure we knew every time they went for vaccinations, hearing tests, their first trip in the car - everything. When the time came for us to visit and potentially choose a puppy, Jayne made sure we would make suitable Dalmatian owners, we met Dolly (Astrid's mum) with the puppies and spent time interacting with both mum and pups. She kept us updated on Astrid's progress from that day until she was 8 weeks old and we arrived to take her home... and our lives have never been quite the same since! Astrid is the most loving, friendly, healthy dog - she loves humans and other dogs alike and is always the centre of attention from friends and family, who just love her! We can't thank Olilou Dalmatians enough for giving us our spotty fur baby.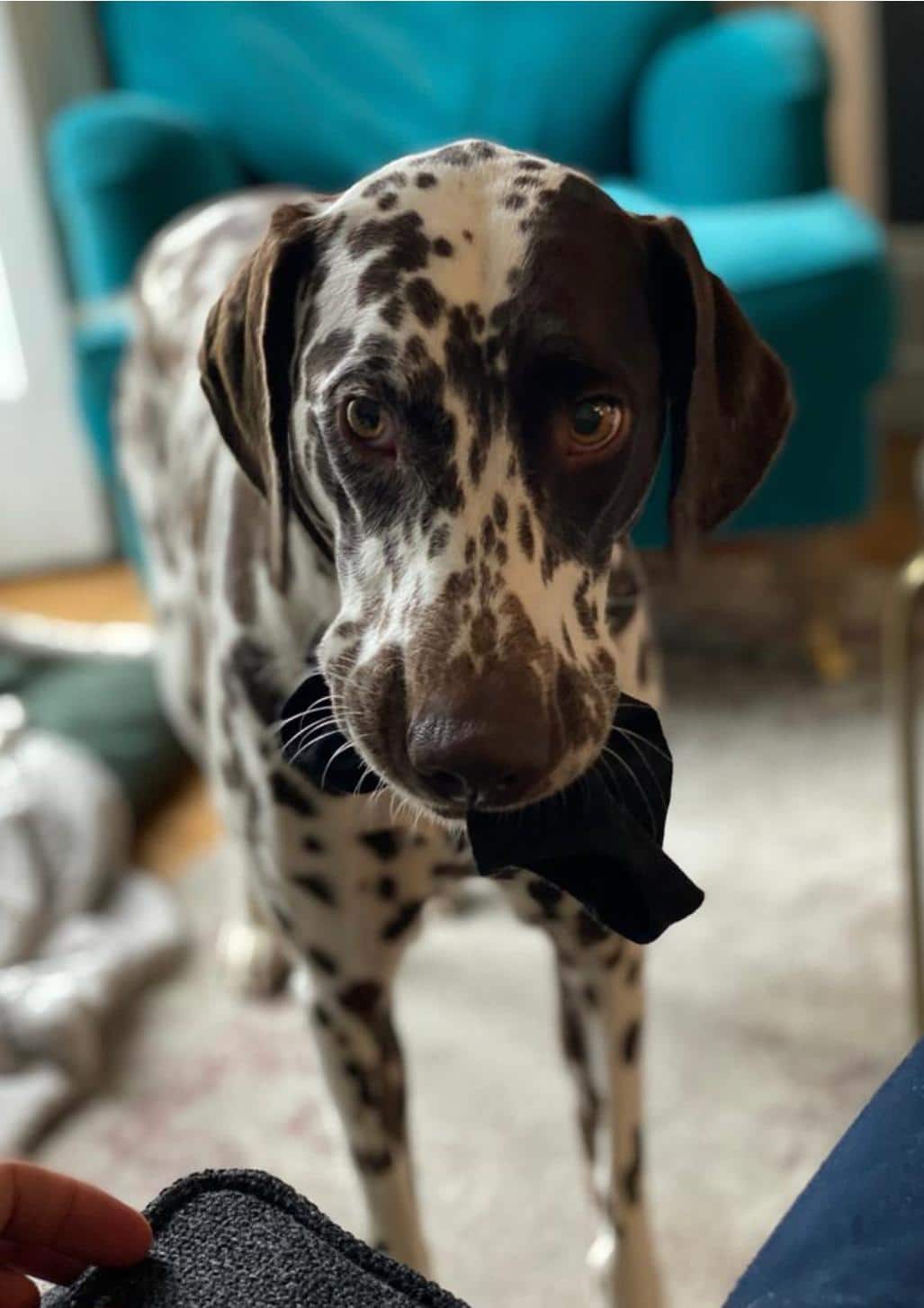 Dealing with Olilou Dalmatians was an absolute pleasure; Jayne was helpful and professional from start to finish. It's clear that she really knew and cared for each of the puppies individually. It's been really lovely to stay in touch and see future litters grow up on social media. We got two liver spotted Dalmatian puppies from Olilou - Coco and Thibaut - they are absolutely wonderful. We had never owned a dog of this breed before and we have found them to be enormously good natured, intelligent and loving. We couldn't live without them now!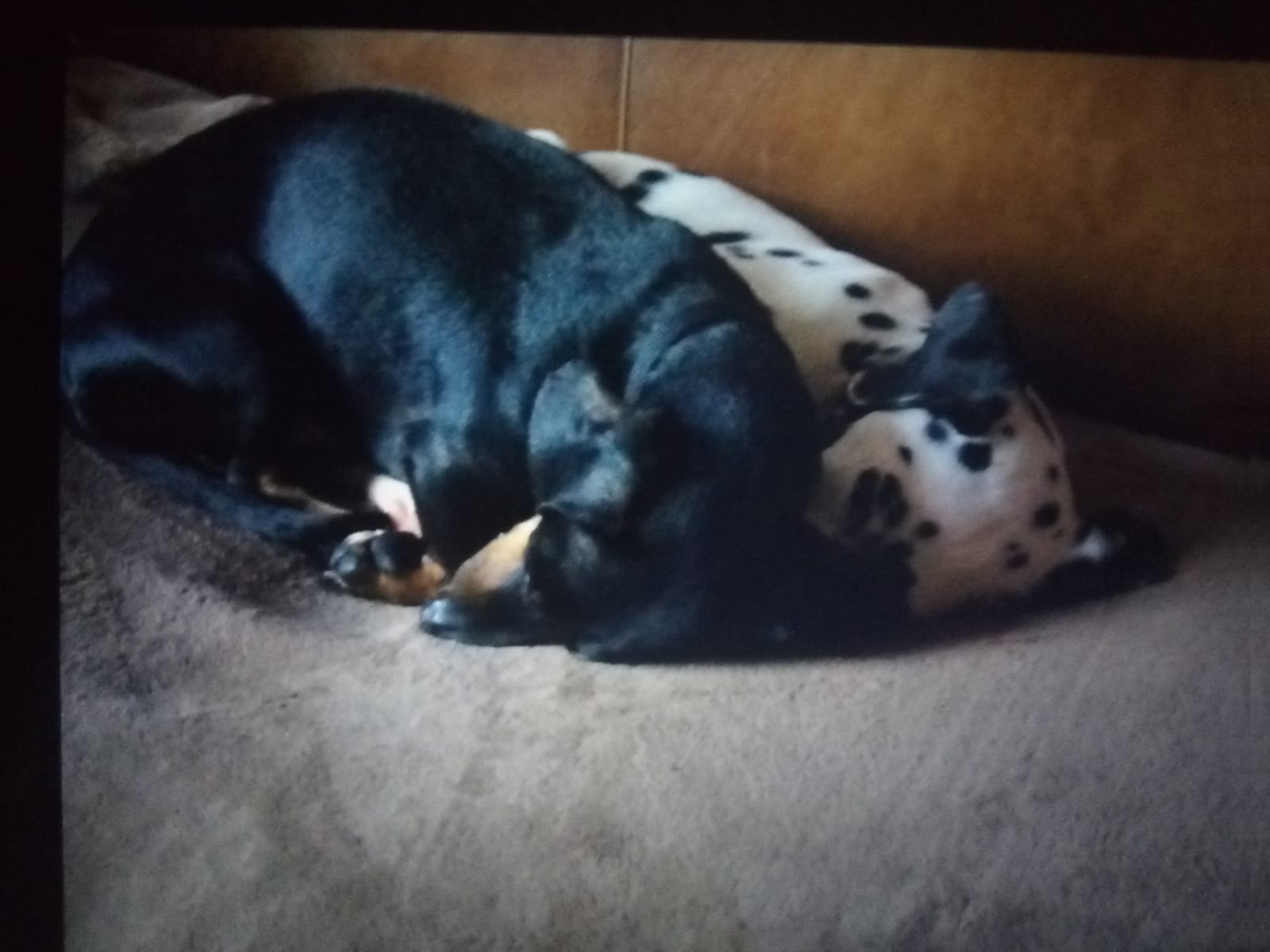 Having never used the Kennel Club before, we were, perhaps, guilty of a few preconceptions about what the experience would be like. However, dealing with Jayne and Olilou Dalmatians has been an absolute delight. From the initial conversation, Jayne was professional and knowledgeable but also incredibly friendly and helpful with a sense of humour which immediately put us at our ease. She is always happy to answer questions even after we have taken Dill, our puppy, home. Although both choosing and collecting Dill had to be done during the Covid pandemic, Jayne was able to make us feel safe and relaxed and still have a personal interaction with us which was lovely. It was quite strange picking up the puppies while wearing a mask and most of them just looked bemused. However, Dill started eating mine; I should have been warned! Dill is full of life and fun and has made all of us, including our Dachshund Walter, incredibly happy, if not a little tired! It was also lovely to meet his Mum, Posh, who was such a gentle girl and seemed like a great mother. Seeing the pups in a lovely family home added to the feeling of confidence we had in Jayne and I can't thank her enough.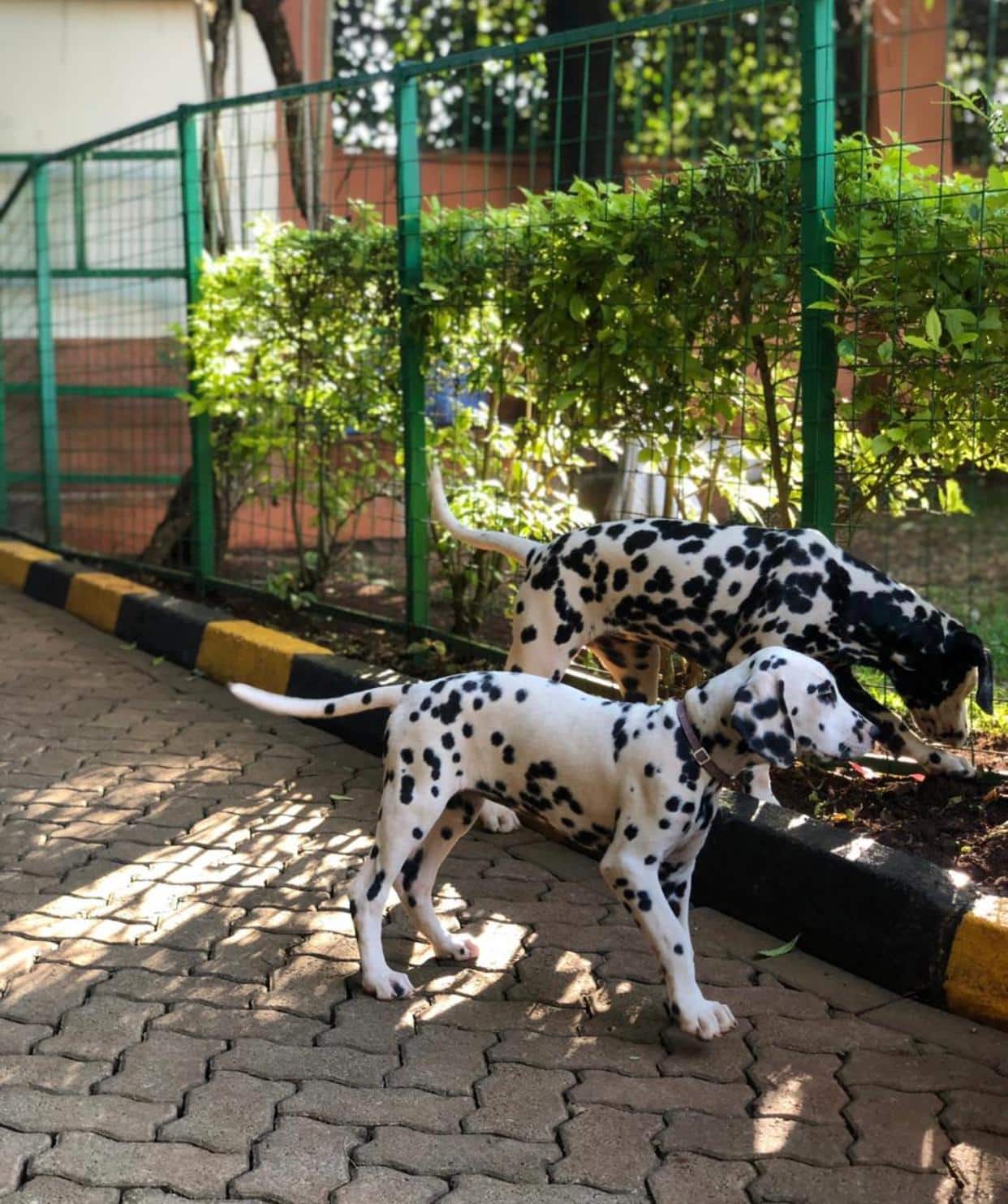 My family is a happy owner of a Olilou Dalmatian. Gucci, born 30 Sep 2020, has a great temperament and is developing well, with possible show potential. Over the years we dealt with many dog breeders, but no one came close to Jayne Howell. Always reachable, friendly and helpful. She has Dalmatians at her heart. Our case was special as Gucci was exported with 10 weeks to Kenya and Jayne was very helpful with that as well. Highly recommend her as a KC assured Dalmatian breeder.
Markus R. Weiss / Nairobi, Kenya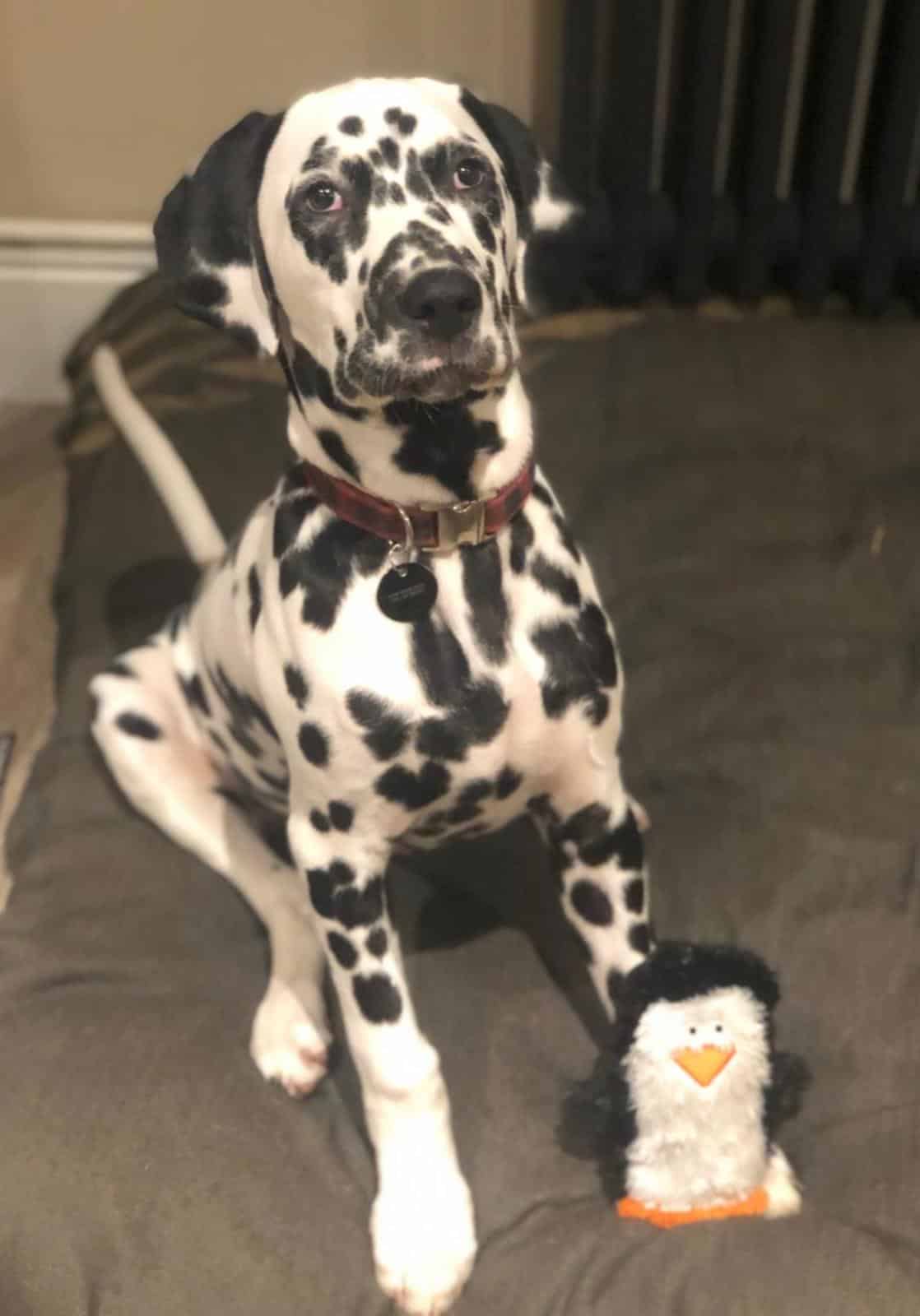 Our experience with Olilou Dalmatians has been fantastic. Jayne has been incredible throughout with continuous updates of the litter's progress, as well as offering reassurance and advice after we brought our puppy home. We are so happy with Axel; he was instantly confident and well adjusted and is a very sociable puppy. I wouldn't hesitate to recommend Olilou Dalmatians to anyone.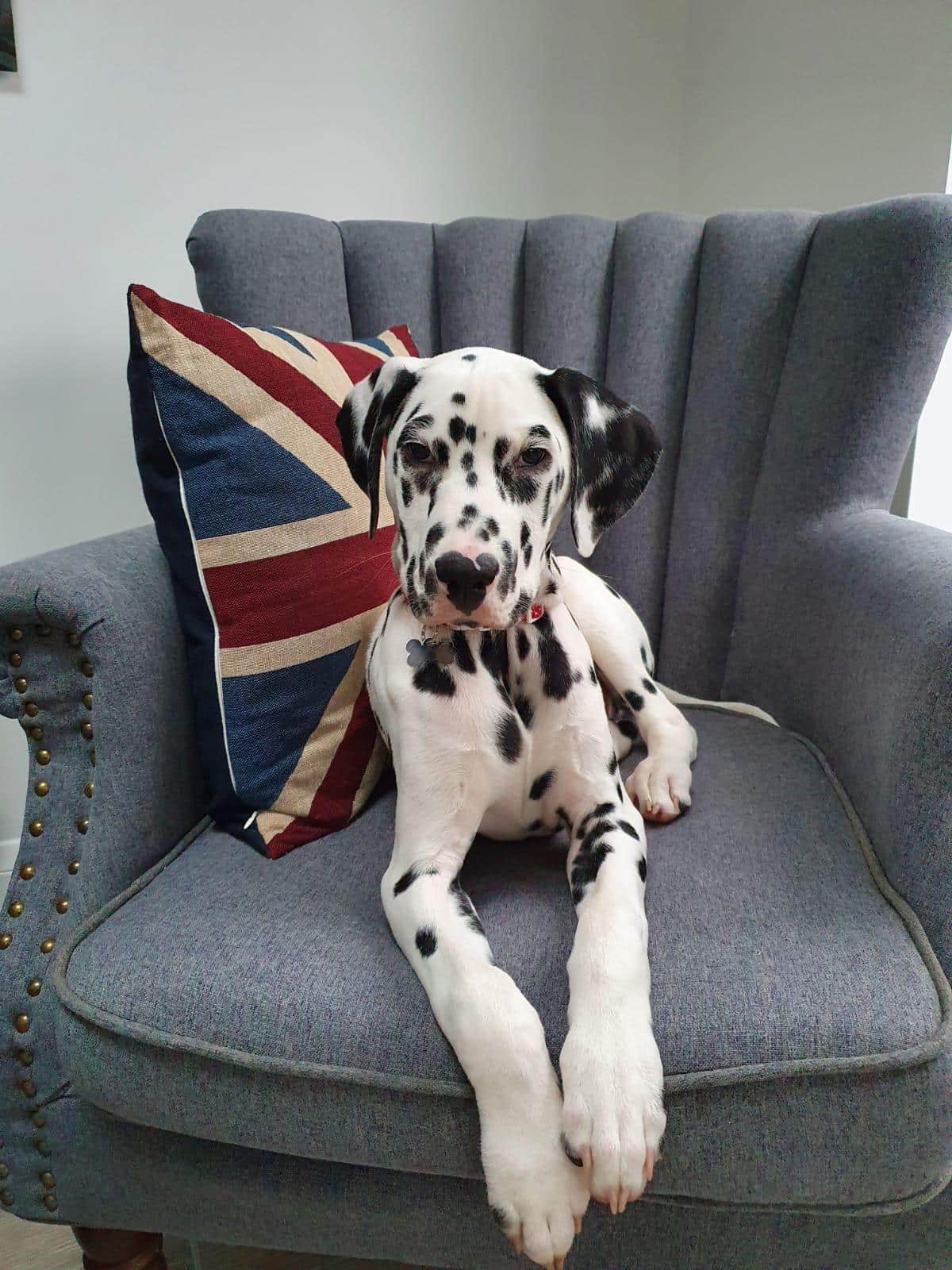 We were lucky enough to find Olilou Dalmatians through a recommend of another breeder. We had been on the search for a Dalmatian pup for several months but were not convinced by a lot of the 'breeders' out there until we came across Olilou. From the outset we had a warm feeling that Jayne and her selection of pups were the ones for us. The Winflash/Bleize de Montjuic bloodline has been well protected and each litter carefully planned. This is clearly demonstrated in the condition of each of the pups. We visited the pups at 5 weeks and saw them with mum. All looked extremely well looked after, healthy and content. We chose our forever boy there and then and Jayne made sure we received regular 'pupdates' either through video or photographs. She was quick to answer any questions we had, made sure we were suitable owners and ensured a completely hassle free collection. All her pups are socialised around other animals, children and social experiences such as car drives, school visits and outdoor play. Our boy came with food, blanket, toy, fully vaccinated at first jab and BAER scored. We literally can not fault any step of the process and will not hesitate to either recommend Jayne to any prospective owners or use her again if we are in the market for another gorgeous Dal.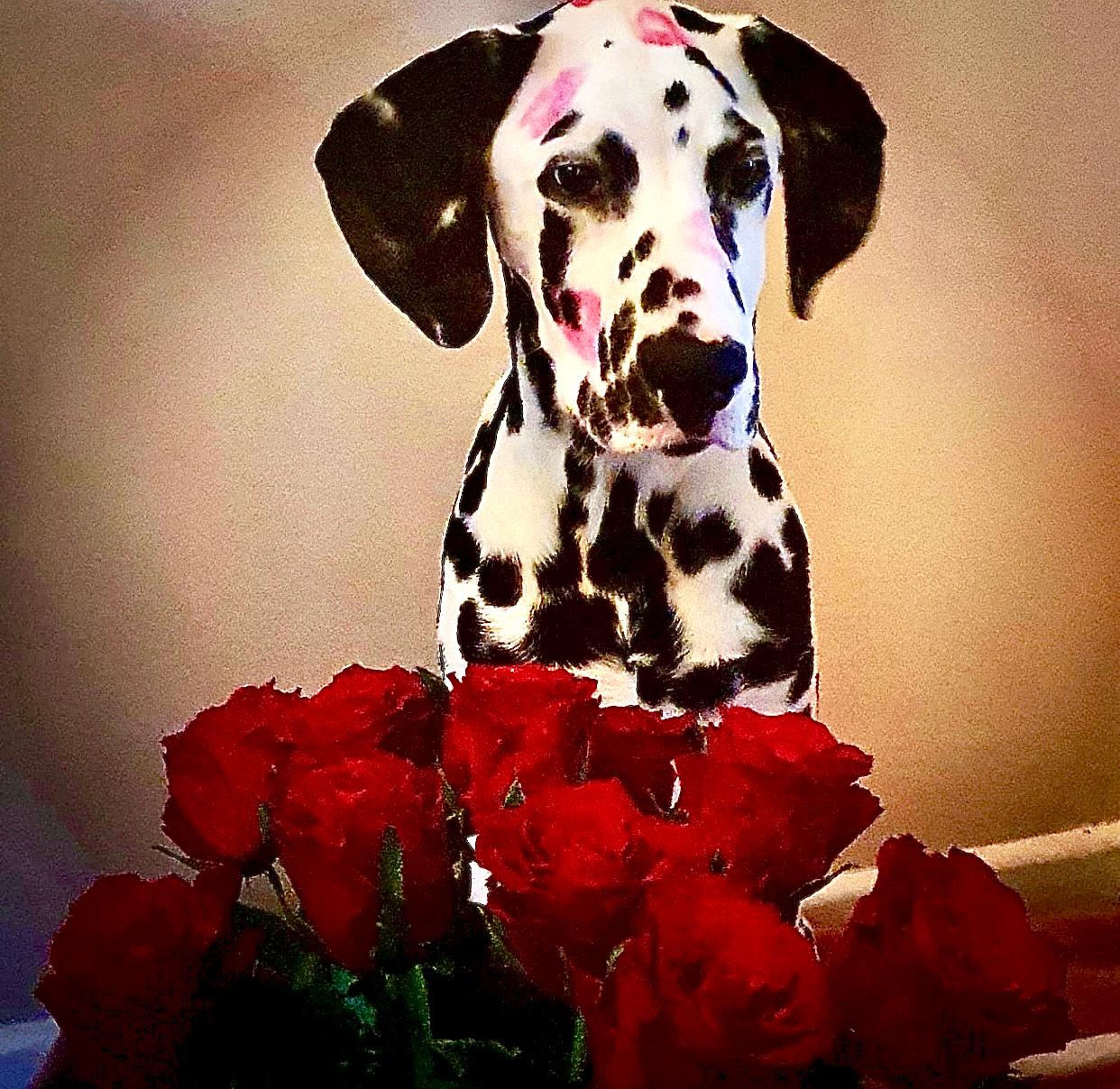 I purchased my gorgeous boy during lockdown and Jayne was extreamly helpful answering my 101 questions . When the day finally arrived and I got to collect my puppy my welcome was warm and professional and I also got to see mum and her other beautiful dalmatians and the environment they grew up in which in my opinion was 5 star home. My puppy pack was excellent extreamly informative and clearly a lot of time and effort has gone into to making them. Our puppy was brave, inquisitive and so friendly with my family and other animals including my horse so had been well socialalized before we had our boy. When I got home the support doesn't stop there I have received messages asking how our puppy is and I've had a few questions Jayne has always been available to answer them. I believe my puppy and I have received an outstanding service and I would highly recommend olilou if anyone was looking for a spotty friend ?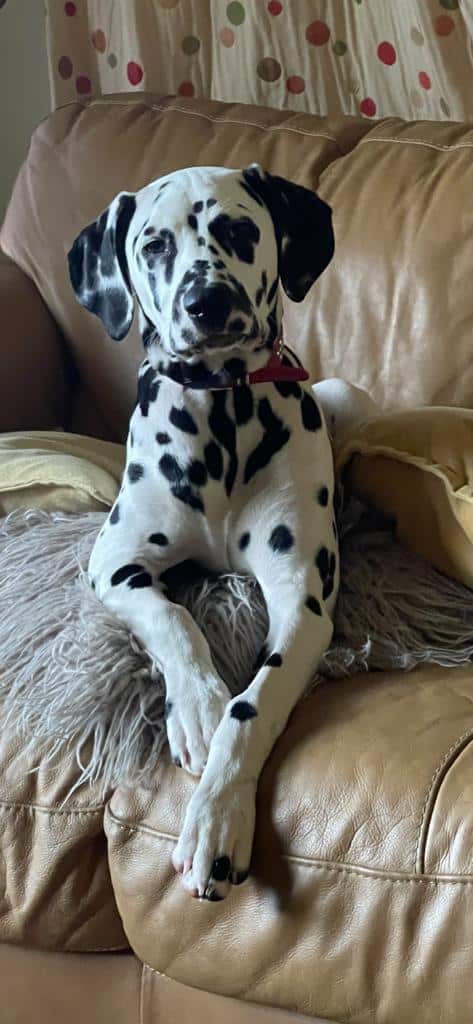 Amazing breeder, honest, professional and very caring about her own dogs and puppies. Regular updates , photos on the progress of our girl. Jayne gave us every confidence we were getting a fabulous , health checked, well nurtured pedigree dog. Our Margot has a beautiful nature admired by many. I would highly recommend Olilou Dalmatians if you are the right person/ family for a Dalmatian.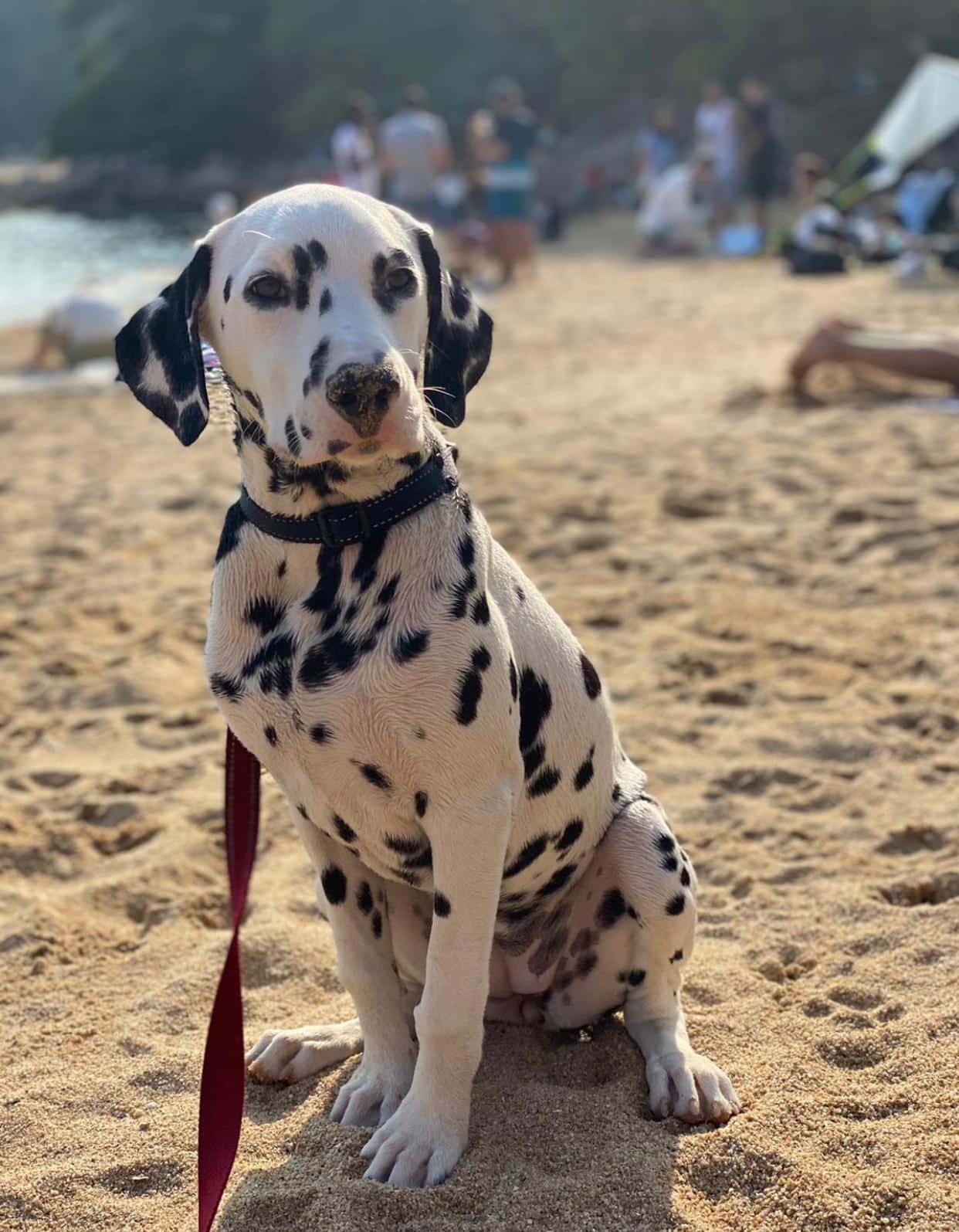 Our story is probably a bit out of the ordinary but really puts into perspective how much Jayne is a great and loving breeder. Fanny and I have been living in Hong Kong for the past 3 years know. We have had this desire to adopt a dog for a long long time, but wanted to wait for the right time in our lives. After deep reading on the topic, we decided we wanted to adopt a Dalmatian, especially because they are known to be good with kids (we have a 1 year old daughter), friendly with other animals (we may very well get a cat in next few years), playful (we wanted a dog we can really interact with), love the water (HK has great beaches, several of which are dog friendly), athletics (HK has many hiking trails to offer), smart (we are training Mila with a trainer and she is doing very well) and just so cute (no debate here - btw they are also so soft!!). We have done our research and reached out to 10+ highly rated breeders in the UK, explaining our situation, where we live in HK but often come to UK, and would love to bring back a puppy over with us on one of our next trips. Jayne was one of the only breeders that responded to our email. It was very comforting to be in touch with her, addressing all our questions, and reassuring us on the travel experience (we were ourselves wondering whether that could be traumatic for the puppy). Unfortunately, as COVID pandemic hit the world, we had to postpone our plans of a trip to UK, which was compromising our picking up a puppy. At this stage we were quite devastated to give up on this dream, but after discussions with Jayne, we actually figured out dogs were actually still able to travel, despite the pandemic. Accordingly, we have hired a professional pet relocation consultant to help assist. The journey went on very well. (Special thanks to Jayne who helped prepare our bitch to get used to her travel crate) It's now been 2 months that we have as Mila in Hong Kong. She is doing just great. She is gorgeous. A lot of energy and love to share. We are super happy to have her with us. We are also super thankful for Jayne and the great work she does. If you get to know her, you can see she is passionate about this, and that makes a whole difference. Also very happy to see we are staying in touch with her on regular basis. Adopting a Dalmatian is a serious commitment, as they require a lot of attention, daily exercise, love (and food ?), but surely a rewarding experience. Just make sure your lifestyle is compatible. Jayne will be the right person to help you figure out.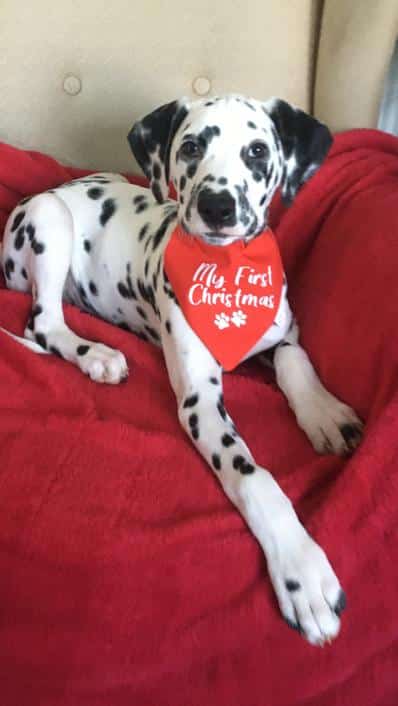 We had a Dalmatian before and wanted another but were sceptical about which breeder to buy from. Jayne at Olilou was highly recommend to us and we were not disappointed, she was so caring, knowledgeable and friendly that we decided she was the person to get a dog from. We made the 280 mile round trip to meet the pups and were very impressed by the pups and spent ages deciding as they were all nice, we Also met their mother, Miss Dior who had such a nice temperament that we knew we had made the right choice. Weeks later we came back to collect and again we asked lots of questions and Jayne made lots of time for us and put our minds at rest. Our beautiful dog has a nice temperament with people and other dogs and soon became part of the family, many thanks Jayne from Paul and Jeanette and the girls.